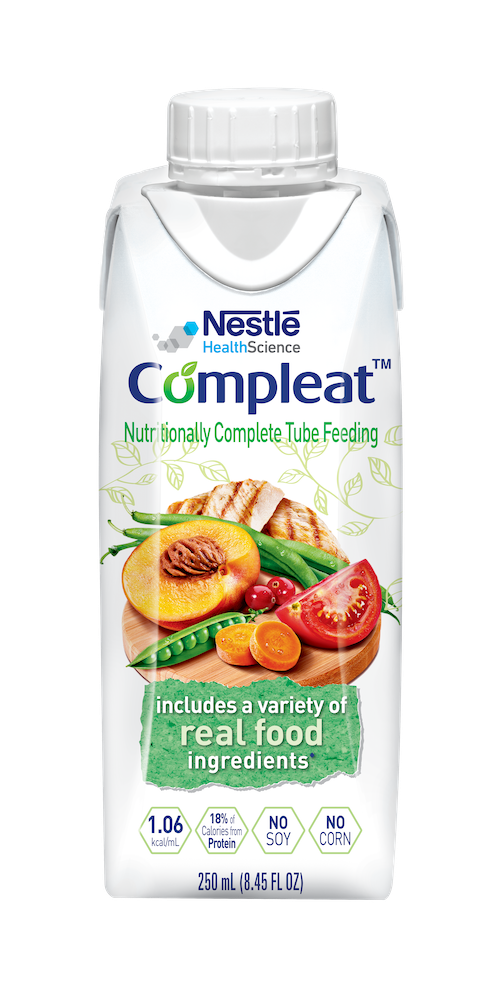 COMPLEAT® is a nutritionally complete blenderized formula made with real food ingredients including chicken puree, peaches, tomatoes, carrots, peas and cranberry juice. It is suitable for both oral supplementation and tube feeding.
Enquiry: 8202 9876
---
Energy density : 1.06 kcal/mL 
One Pack (250 mL) provides:
Suitable for lactose intolerance
Excellent tolerance with real food ingredients


Shake well before opening. Once opened, unused portion should be tightly covered, refrigerated, and used within 24 hours.
Short- or long-term tube feeding
Oral nutritional supplement
Those who prefer a formula containing real food ingredients 
Intolerance to other formulas  
FOOD FOR SPECIAL MEDICAL PURPOSES
USE UNDER MEDICAL SUPERVISION
Water, glucose syrup, milk protein (3.6%), low erucic acid rapeseed oil, fruit and vegetable blend [tomato paste (0.6%), peach puree (0.57%), green bean powder (0.47%), pea powder (0.23%), carrot powder (0.12%), cranberry juice concentrate (0.12%)], dried chicken meat (1.9%), mineral (potassium citrate, sodium citrate, magnesium phosphate, choline chloride, potassium chloride, taurine, zinc sulphate, magnesium oxide, ferrous sulphate, calcium phosphate, manganese sulphate, copper sulphate, chromium chloride, sodium molybdate, potassium iodide, sodium selenate), fibre (pea fibre, arabic gum, fructo-oligosaccharide, inulin), pea protein isolate, salt, vitamin (C, E, B5, Nicotinamide, B6, B1, B2, A, β-carotene, B9, K1, B7, D3, B12), L-carnitine.
Allergen information: Contains milk products