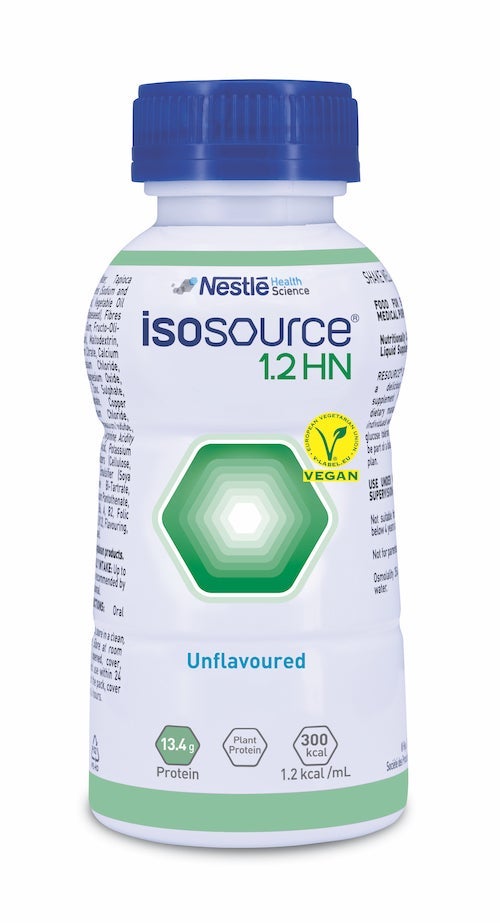 ISOSOURCE
®
1.2 HN is the first launched VEGAN oral or tube feeding nutritional formula in Hong Kong. It is certified by European Vegetarian Union. It is a high energy, nutritionally complete formula without fibre for the dietary management of conditions with increased nutritional needs.
Enquiry: 8202 9876
---
Energy: 1.2 kcal/mL
One bottle (250mL) provides:

Plant Protein: 13.4 g (18%)
Carbohydrates: 39.3 g (52%)
Fat: 10 g (30%)
of which 15% is MCT

Suitable for vegan diet
Suitable for lactose intolerance
Gluten free
Suitable for oral-feed or tube-feed
Water, Maltodextrin, Soya Protein, Vegetable Oils (Low Erucic Acid Rapeseed, Medium Chain Triglycerides, High Oleic Sunflower, Sunflower), Minerals (Calcium Citrate, Sodium Citrate, Potassium Chloride, Potassium Citrate, Calcium Phosphate, Potassium Phosphate, Magnesium Oxide, Ferrous Sulphate, Zinc Sulphate, Manganese Sulphate, Copper Sulphate, Chromium Chloride, Sodium Molybdate, Potassium Iodide, Sodium Selenite), Emulsifier (Soya Lecithin), Stabilizers (Cellulose, Cellulose Gum, Carrageenan), Acidity Regulators (Citric Acid, Potassium Hydroxide), Choline Bitartrate, Vitamins (C, E, Calcium Pantothenate, Nicotinamide, B1, B6, A, B2, Folic Acid, K1, Biotin, D2, B12).
Allergen information: Contains soyabean products.
Produced in a factory where milk is also handled.