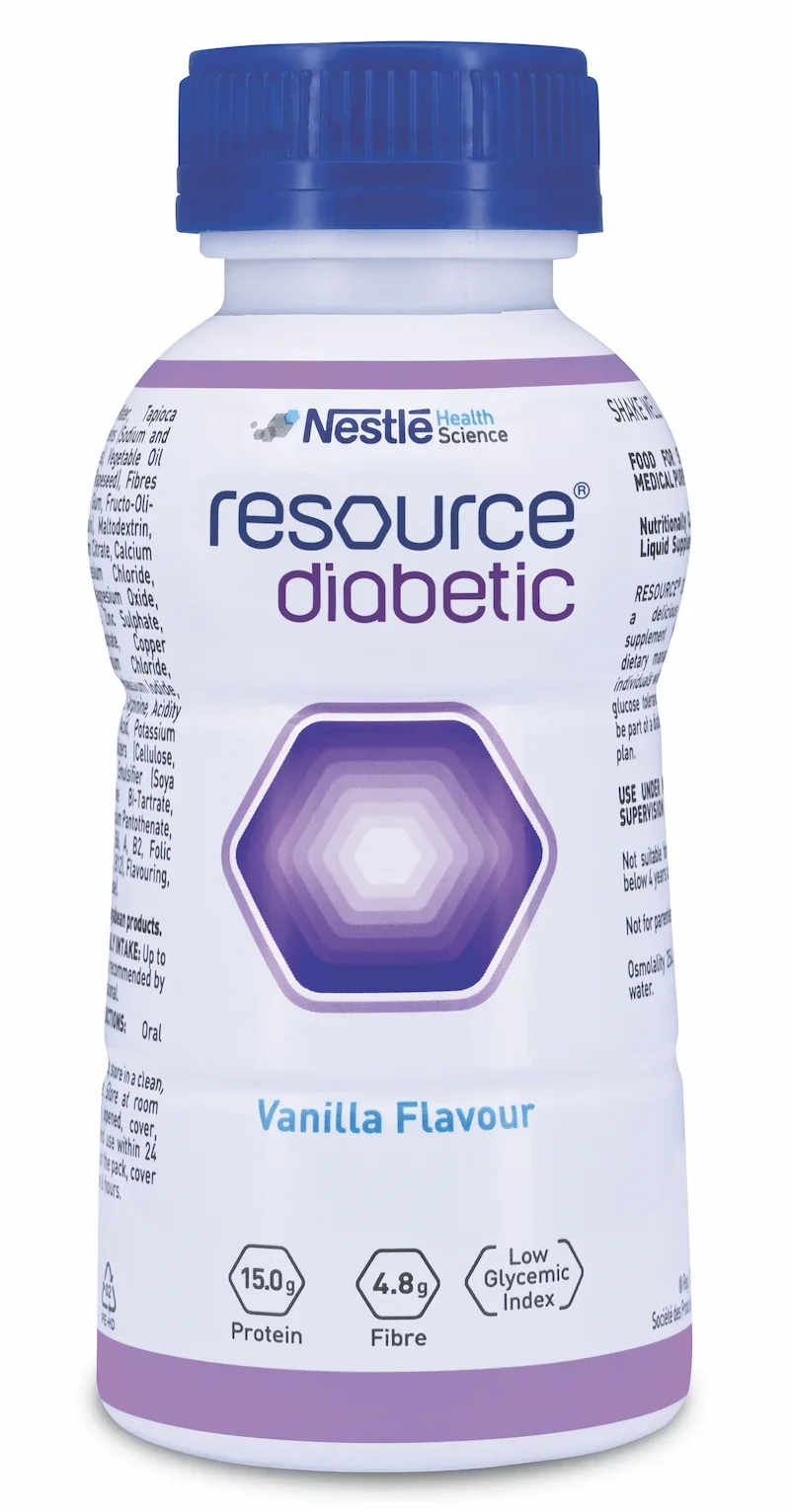 RESOURCE®Diabetic formula is suitable for people concerned about blood sugar.# It is a liquid supplement with high protein and low glycemic index.
# This product is not registered under the Pharmacy and Poisons Ordinance or the Chinese Medicine Ordinance. Any claim made for it has not been subject to evaluation for such registration. This product is not intended to diagnose, treat or prevent any disease.
Enquiry: 8202 9876
Available in: Cheers, Solutions, Culture Homes, Mannings Rx, Watsons Rx, Hospital rehab shop​ (may need to pre-order with retailer)
---
Energy density: 1.04 kcal/mL
One Bottle (250 mL) provides:

Fibre: 4.8 g, good for bowel health and may assist in stabilizing blood sugar#
High protein: 15 g, helps build and repair normal tissue
Carbohydrates: 21 g 

Low in Glycemic Index: 35
Vanilla Flavour
Suitable for oral-feed and tube-feed


Shake well before opening. Once opened, unused portion should be tightly covered, refrigerated, and used within 24 hours.
People concerned about blood sugar
People have or are at risk of developing pressure sores
People with elevated protein requirement
FOOD FOR SPECIAL MEDICAL PURPOSES
USE UNDER MEDICAL SUPERVISION
INGREDIENTS: Water, Tapioca Dextrin, Milk Proteins (Sodium and Calcium Caseinates), Vegetable Oil (Low Erucic Acid Rapeseed), Fibres (Guar Gum, Acacia Gum, Fructo-Oligosaccharide, Inulin), Maltodextrin, Minerals (Potassium Citrate, Calcium Phosphate, Potassium Chloride, Sodium Citrate, Magnesium Oxide, Ferrous Sulphate, Zinc Sulphate, Manganese Sulphate, Copper Sulphate, Chromium Chloride, Sodium Molybdate, Potassium Iodide, Sodium Selenite), L-Arginine, Acidity Regulators (Citric Acid, Potassium Hydroxide), Stabilizers (Cellulose, Cellulose Gum), Emulsifier (Soya Lecithin), Choline Bi-Tartrate, Vitamins (C, E, Calcium Pantothenate, Nicotinamide, B1, B6, A, B2, Folic Acid, K1, Biotin, D3, B12), Flavouring, Sweetener (Sucralose).
Contains milk and soyabean products.