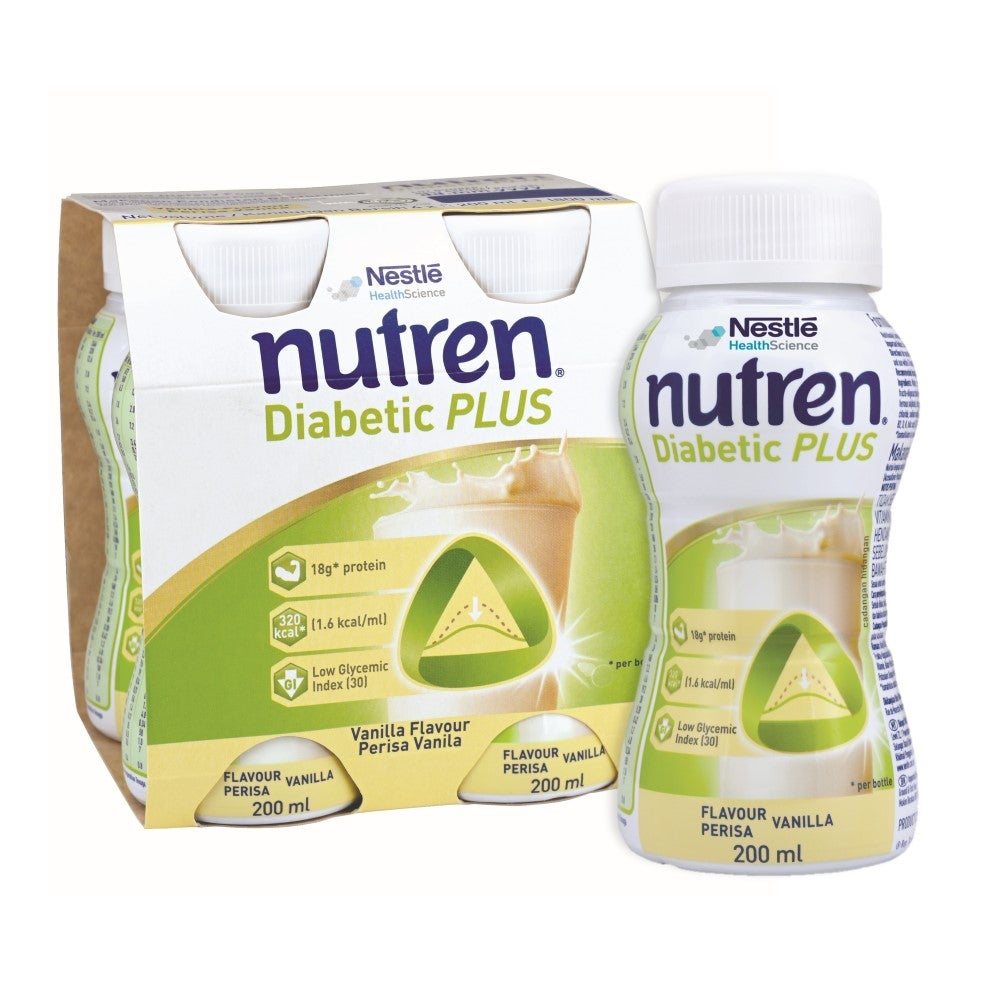 NUTREN@ Diabetic Plus is a high energy, high protein liquid supplement.
It is low in GI, suitable for people concerned about blood sugar.*
Enquiry: 8202 9876
---
Energy density: 1.6 kcal/mL
One Pack (200 mL) provides:



High protein: 18g
Fibre: 5.0g
Carbohydrates: 31.4g
Low Glycemic Index: 30



Suitable for lactose intolerance
Vanilla Flavour
Suitable for oral-feed or tube-feed
People concerned about blood sugar
People have or are at risk of developing pressure sores
People with elevated protein requirement
FOOD FOR SPECIAL MEDICAL PURPOSES. USE UNDER MEDICAL SUPERVISION.
*This product is not registered under the Pharmacy and Poisons Ordinance or the Chinese Medicine Ordinance. Any claim made for it has not been subjected to evaluation for such registration. This product is not intended to diagnose, treat or prevent any disease.
Water, Starch, Milk Protein, Rapeseed Oil, Fibres (Guar Gum Partially Hydrolyzed, Arabic Gum, Fructo-Oligosaccharide, Inulin), Isomaltulose, Emulsifier (471), Minerals (Potassium Chloride, Magnesium Citrate, Ferrous Sulphate, Zinc Sulphate, Manganese Sulphate, Copper Sulphate, Sodium Fluoride, Sodium Selenate, Chromium Chloride, Sodium Molybdate, Potassium Iodide), Acidity Regulator (524), Vitamins (C, E, Niacin, Pantothenic Acid, B6, B1, A, B2, D, K, Folic Acid, B12, Biotin), Flavour, Sweetener (950), Color (Beta Carotene).
Allergen information: Contains milk products.
Contains Milk and Soy
NUTREN® Diabetes
NUTREN® Diabetes Nutritional Supplement is suitable for people concerned about blood sugar.