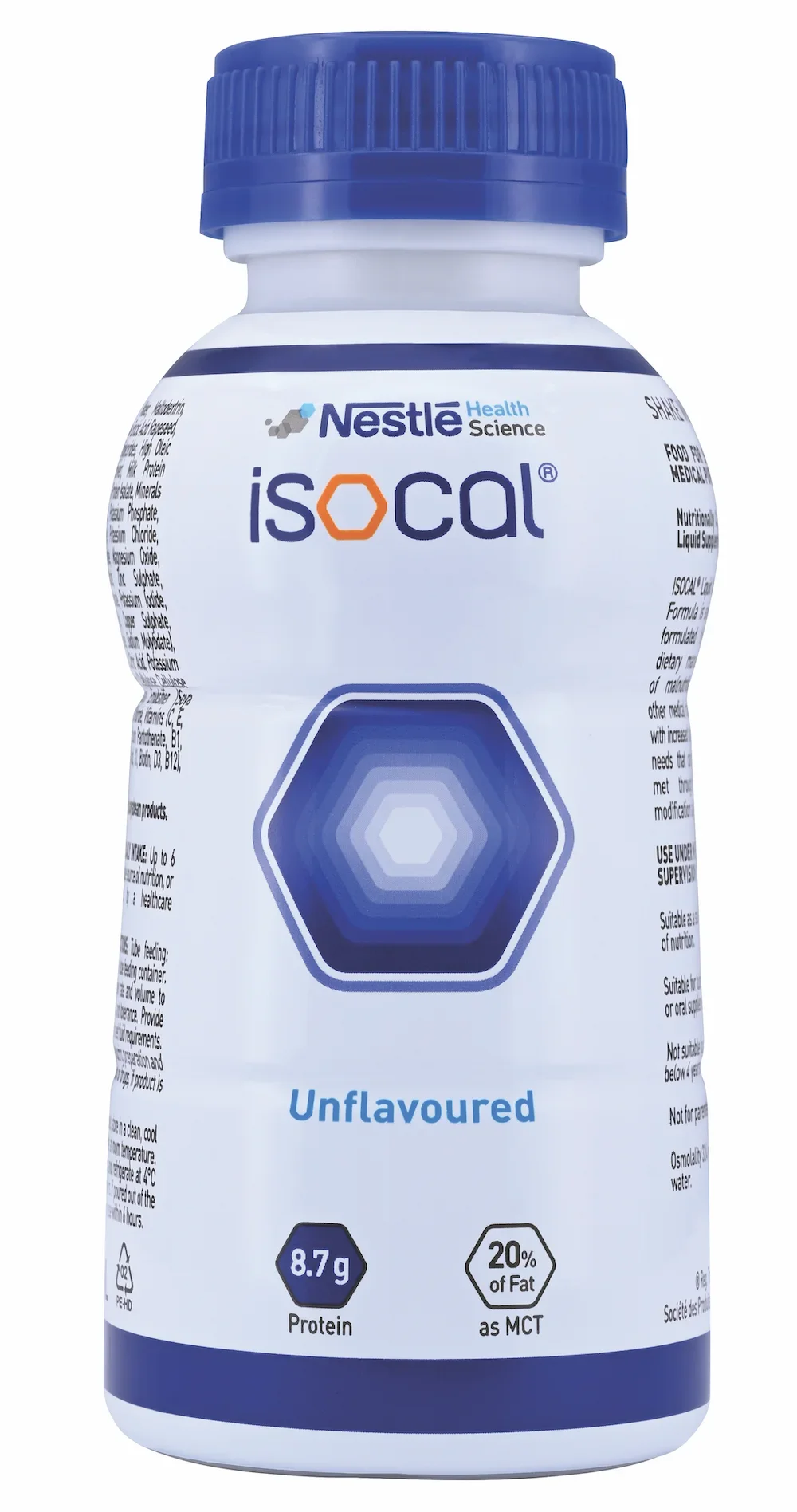 ISOCAL® is a nutritionally complete tube-feeding formula without fibre for the dietary management of conditions with increased nutritional needs.
Enquiry: 8202 9876
 Available in: Cheers, Hospital rehab shop (may need to pre-order with retailer)
---
Energy: 1 kcal/ mL
One bottle (250 mL) provides:

Protein: 8.7 g (14%)
Carbohydrates: 33.7 g (54%)
Dietary Fibre: 0 g
Fat: 9 g (32%)
Of which 20% is MCT

Isotonic
Suitable for lactose intolerance
Gluten free
Unflavoured
Suitable for tube feeding and oral supplement


Shake well before opening. Once opened, unused portion should be tightly covered, refrigerated, and used within 24 hours.
Short- or long-term tube feeding 
Fibre restriction 

FOOD FOR SPECIAL MEDICAL PURPOSES
USE UNDER MEDICAL SUPERVISION
Water, Maltodextrin, Vegetable Oils (Low Erucic Acid Rapeseed, Medium Chain Triglycerides, High Oleic Sunflower, Sunflower), Milk Protein Concentrate, Soya Protein Isolate, Minerals (Sodium Citrate, Potassium Phosphate, Calcium Citrate, Potassium Chloride, Sodium Phosphate, Magnesium Oxide, Ferrous Sulphate, Zinc Sulphate, Manganese Sulphate, Potassium Iodide, Sodium Selenite, Copper Sulphate, Chromium Chloride, Sodium Molybdate), Acidity Regulators (Citric Acid, Potassium Hydroxide), Stabilizers (Cellulose, Cellulose Gum, Carrageenan), Emulsifier (Soya Lecithin), Choline Chloride, Vitamins (C, E, Nicotinamide, Calcium Pantothenate, B1, B6, B2, A, Folic Acid, K1, Biotin, D3, B12), Glucose Syrup.
Contains milk and soyabean products.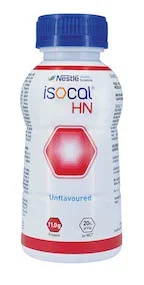 ISOCAL® HN
ISOCAL® HN is a high protein, standard tube-feeding formula without fibre.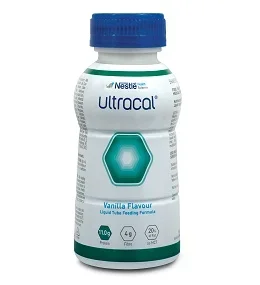 ULTRACAL®
ULTRACAL® is a high protein, high fibre tube-feeding formula.